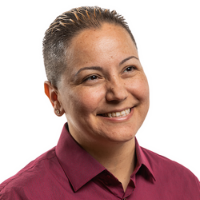 Kristina Padilla M.A., LAADC, ICAADC, CGS is a leader with the California Consortium of Addiction Programs and Professionals (CCAPP), where she serves as the Vice President overseeing CCAPP's Education Department. She also is the Vice President of Strategic Development for the organization wherein she travels throughout California and the nation bringing addiction-focused businesses together to promote the profession, increase access to services and improve the quality of AOD service provision through education, business development, and investment in quality programming. Mx. Padilla led California's innovative criminal justice program serving as the Offender Mentor Certification Program Director for three years where she managed 12 in-prison programs for training counselors. She worked closely with the California Department of Corrections and Rehabilitation (CDCR) in California prisons for the duration of the contract bringing innovation and growth to the state's in custody treatment programming.
Mx. Padilla  has a Bachelor's of Science in Criminal Justice Administration and a Master's Degree in Counseling Psychology with an emphasis on Marriage and Family therapy. Mx. Padilla is a Licensed Advanced Alcohol and Drug Abuse Counselor (LAADC), and an International Certified Advanced Alcohol and Drug Abuse Counselor (ICAADC). She is also a Certified Gang Specialist of the National Gang Crime Research Center (NGCRC) and is on the Board of Directors of the National Association of Lesbian, Gay, Bisexual, Transgender Addiction Professionals and their Allies (NALGAP) where she is the Vice President and is the California representative.
She also was on the Board of Directors for the Women's Association of Addiction Treatment (WAAT) Board where she was Chair and is currently on the Board of Directors of National University. Mx. Padilla is the Chief Academic Officer for the CCAPP Academy at CCAPP and is a past Board member for the  National Alliance For Mental Illness  (NAMI) Sacramento chapter. Mx. Padilla sits on the Advisory Board for (NATI) Native American Institute in New Mexico and is a consultant for Faces and Voices NRI (National Recovery Institute).
Mx. Padilla is also an independent consultant on LGBTQIA2+ issues/services and travels the Nation providing training and lectures at conferences as well as in-service training for non-profits, for-profits, county and state workers. Mx. Padilla is also an Addiction Technology transfer center (ATTC) Trainer and "Equality California" Leadership Academy fellow. Mx. Padilla obtained her "Higher Education Teaching Certificate" at Harvard, The Derek Bok Center For Teaching and Learning in July 2020. Mx. Padilla is a mother to a beautiful 4-year-old little girl named Karisma. She also is a part of the LGBTQ+ (Rainbow) Community and identifies as a  Trans, Gender-Fluid, 2 spirit, non-binary person. Kristina's pronouns are She, Her, and Hers.